Congratulations to Debbie Once Again!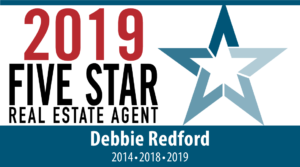 Five Star Professional conducts market research to define and promote professional excellence in the professions we serve. The Five Star designation assists consumers in selecting a service professional that other consumers say provides exceptional client satisfaction and service. Out of 23,000 Real Estate Agents, 132 are 5 Star Agents.
This distinction represents the Top 1/2 % of all Agents. This is a 15-year-old award, represent 46 markets and is determined by a Blue Ribbon Panel for evaluation.
Debbie Redford is a FiveStar Agent!